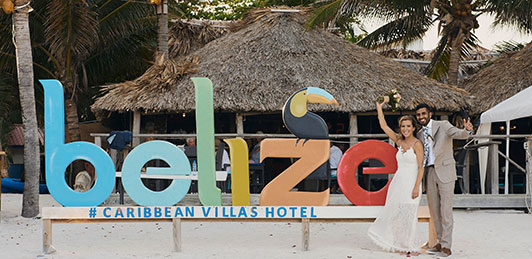 2020 has been a year for the books. If you were planning a wedding, looking to plan a wedding, or had your wedding cancelled….we feel your pain. As 2021 begins to approach, many couples who are rescheduling, or starting to plan might want to look into eloping in Belize.
If you were never thinking of eloping (or maybe it was just a dream), we are here to highlight some reasons that eloping in Belize might be for you:
GUESTS ARE UNABLE TO TRAVEL, OR UNWILLING TO ATTEND A BIG WEDDING
With the world still in a dizzy state, many guests might not be willing to travel. If you were planning a destination wedding, you might find that a big chunk of your guest count just isn't really to take the plunge. Looking to get married at home? Many of our clients are still finding that their guests just aren't ready to socialize. With your guest count unsure, why not just focus on the two of you, and elope in Belize!
STRESS FREE PLANNING
Throw out those seating plans, get rid of the linen samples….and focus on what matters. An elopement takes away all the stress of the un-necessary, and allows you to focus on your partner.
IT'S BEEN A ROUGH YEAR, WHY NOT TREAT YOURSELF!
Let's be honest. It has been a rough year for everyone. After months of uncertainty, you deserve a break! Why not take that 'wedding fund' and turn it into an elopement and adventure of a lifetime fund? You deserve it! Elope in Belize, then relax, explore and treat yourself.
USE OUR PACKAGES, AND JUST RELAX
Tired of thinking? Don't want to plan? Use one of our all-inclusive packages, and let us do the rest. We will help you every step of the way from the moment you land in Belize until the moment you leave. No need to worry and research hotels, our preferred partners are the best in Belize and are picked for their quality, romantic feel, and overall service level.
ELOPEMENTS IN BELIZE ARE LEGAL!
Yes, you heard it right. Your elopement in Belize is Internationally recognized. We do all the paperwork before you arrive, so all you have to do is sit-back, relax and enjoy!
SO MANY OPTIONS
Have you dreamed about getting married surrounded by the Caribbean Sea? Maybe hiking uptop of a Maya Ruin with the jungle as far as you can see? Private waterfall with blue morpho butterflies buzzing around? Or maybe a paddleboard on-top of the Belize Barrier Reef? Let's make it happen, the more adventurous the better!
AWARD WINNING PHOTOGRAPHER
All our Belize elopement packages come with an award winning photographer who will capture amazing shots of the day. Photos are perfect ways to share the day with friends and family, as well as create those 'wow' moments worthy of a frame.
WANT TO SHARE A VIDEO WITH FRIENDS AND FAMILY, NO PROBLEM
We know, friends and family will be sad not to attend. No worries! We offer a variety of video packages, that will make them feel like they are actually there, and they can relive the moment over and over.
With so many reasons to elope in Belize, why not! Have questions? We offer free phone and video consultations, and are here to answer each and every question or concern you might have. Treat yourself, indulge in adventure, and go back to the basics… love.
We can't wait to meet you in beautiful Belize!