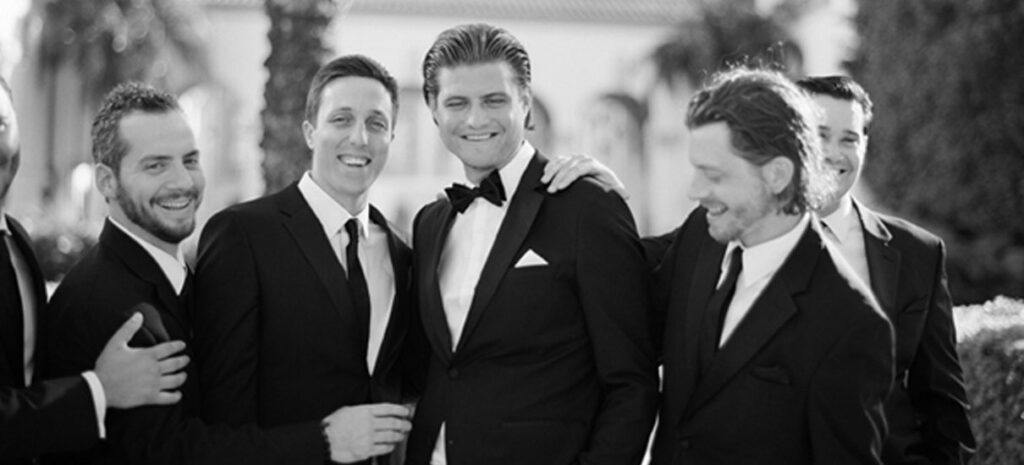 I often get asked…."What is the groom suppose to wear"… I recently saw this great article from my friends at Tropical Vows, and had to share.
Click here to see the Blog Repost
Okay, as you can see from the title, this one is for all the grooms out there. Or, for all the brides out there that will tell the groom what to wear. First, think of what the overall theme you want your wedding to have. Casual? Black tie? Once this decision is made you can move forward in finding specific attire. It seems to me that more people end up going with a more casual style because it fits the theme and vibe of a Caribbean destination wedding. However, black tie weddings are not unheard of, so we cannot exclude this group.
Groom's Attire: Black Tie
If you go black tie, most likely the groom and his groomsmen will be renting their tuxes prior to leaving for their destination. Make sure you leave enough time to pick up the tuxes, you have the right ones, and that they fit before you travel. You will also need to factor in the length of time you will be away and what the additional cost may be for the added time. Speaking of time, give yourself an extra day or so to return the tux if you can. The last thing you want to do when you get back from your wedding/honeymoon is a bunch of chores! I think I was seriously depressed when we returned from our wedding and honeymoon because we had to face the real world (I wasn't depressed because I realized that I was married, just that I had soooo much fun while we were away!) I definitely couldn't handle doing anything extra! Also, since the tux is rented, jumping in the ocean or the resort pool for some fun pics may not go over so well when you try to return the tux.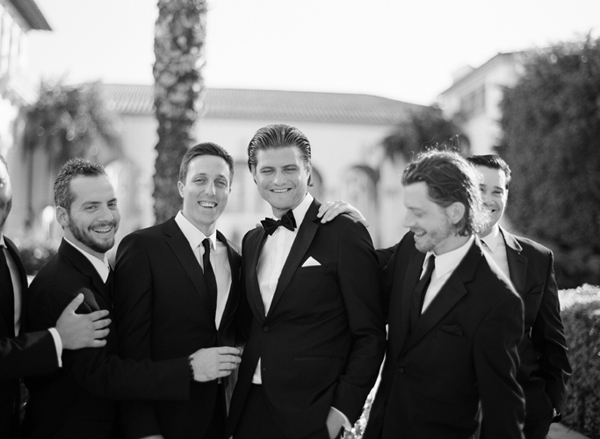 One important factor that I think keeps people from going black tie at destination weddings is the weather. I'm sure it's not breaking news to all of you that if you are having an outdoor wedding in the Caribbean it is going to be warm! That's a big reason why we go there, right?! So, standing under the sun in a full tuxedo may not be the most ideal conditions. But black tie isn't all bad. The groom is sure to be the best dressed man on the island with all eyes on him (well, after the bride of course).
Groom's Attire: Beach Chic
So, what's an alternative that still looks good and allows the men to be comfortable? Beach chic. Well, that's what Melissa tells me anyway. She told me this six years ago (Wow, has it really been that long already?) when I was trying to figure out what to wear for our wedding. My response to that was, "What the heck is beach chic supposed to mean?" I gave it my best shot, I'll let you be the judge.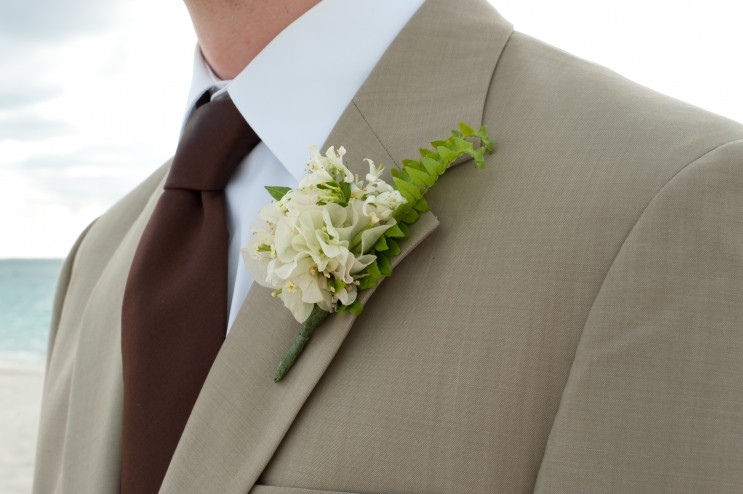 I wanted to go for a light weight suit and a lighter color. I initially thought of going with a linen suit but had difficulty finding anything I liked. I ended up finding a light weight suit from Joseph A. Bank that was from their "Stays Cool" line. The main reason I wanted to wear a suit was so I would stand out from the other guys in the wedding. This worked out well. The one drawback, and it wasn't that bad due to the lighter material, was the heat factor that I mentioned above. I wore the suit jacket for the ceremony and some of the pictures, but by the time the reception rolled around I ditched the jacket. Another thing I like about purchasing a suit specifically for the wedding is that I get to keep it and where it to other functions. And when someone comments, "Hey, nice suit!" I get to say "Thanks, I got married in this suit!"
Groom's Attire: Casual
So what else is there if you aren't a suit or tux person? There are a lot of great looks out there for a beach wedding that are more casual. One of the best parts of going more casual is the comfort! I went with a linen button down shirt and linen pants for our rehearsal dinner. This could have very easily been wedding attire too (well, I probably would have gone with a shirt that wasn't so loud for the actual wedding). Shorts aren't out of the question either, especially if you are holding your ceremony at the water's edge.