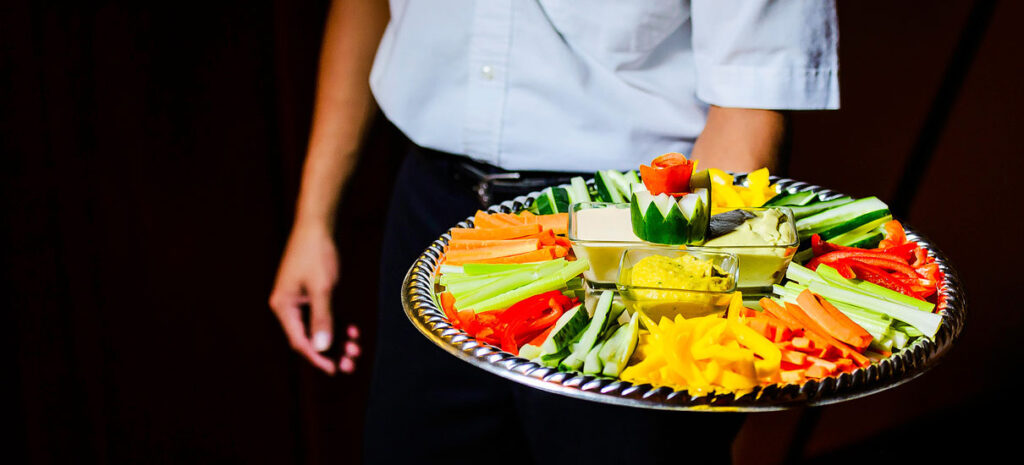 Believe it or not, steak and potato are no longer the standard at weddings. From attractive flavors from around the world, to more personalized menus… today's wedding menus now reflect the theme of a wedding, and the couples personal preferences. With so many options, choosing the menu for your wedding dinner is more complicated — and more exciting — than ever. Here is some advice for planning that perfect wedding menu for your Belize Wedding.
The Basic Menu
The wedding menu can take many forms, from a simple self-service buffet to an elaborate five course meal served by waiters. In the most traditional version, a seated dinner is generally preceded by a cocktail hour with hors d'oeuvres and contains three courses: a first course, a main entree, and a dessert. The first course is typically a small, simple starter. Many examples include salads and basic local soups. The main entree usually includes a meat or fish, such as filet mignon or grilled snapper (you should have a separate dish for your vegetarian guests), accompanied by a starch (herbed rice, mashed potatoes with truffle oil) and a vegetable (glazed carrots, grilled eggplant). Dessert may or may not be your wedding cake; some couples serve a separate dessert — something light and refreshing, like a lemon tart — and save the wedding cake for later in the reception, say, during the dancing.
I always suggest that couples work with their local caterer to create menus that are in season and local to the area. In for a Belize Wedding, for example, it is always better to serve a pork or a chicken rather than a steak. The quality is better, and the cost is much lower. Always ask around to see what is in season, and what more budget friendly ideas can include.
Working with a Caterer
Before you decide on a menu, you need to choose a caterer. Try to book one as soon as you pinpoint a date; the best caterers are often reserved up to a year in advance, especially for popular times in Summer. Be aware that some reception sites have exclusive catering arrangements, so you may be required to choose from a proscribed list of vendors. While you and your caterer will certainly begin discussing menu ideas early on, you generally have until much later to finalize the menu. Many caterers don't need to know exactly what you'll be serving until two weeks before the wedding. Of course, for your own peace of mind (and if you're having menu cards printed up), you'll want to make your decisions sooner than that.
In Belize, you will either be choosing a venue at a hotel property or a private residence. At hotels, you will often be required to use the in-house catering staff. Many properties offer a variety of choices at different price points and are more than willing to work with your tastes. If you are having an event at a private residence or property, you have a great selection of local caterers to choose from. Always ask for references of their work, as most of the time a tasting will not be possible. Either way, your Belize Wedding is sure to please any palate!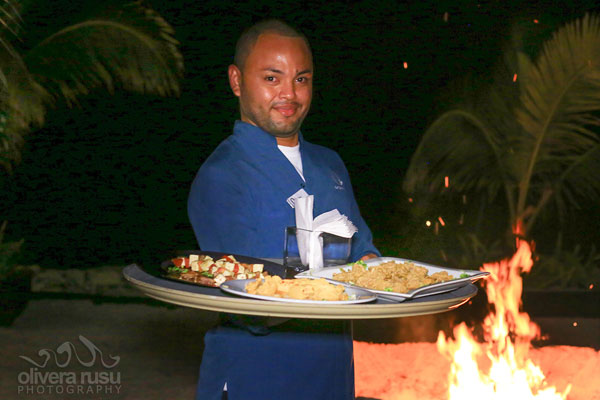 Where to Start
The easiest way to start is by looking at your likes and dislikes. Begin by thinking about what you love to eat. Think too about any foods that have special significance. Your wedding is an opportunity to share something intimate with your guests — your combined culinary heritage (reflected in an Irish-Indian buffet, perhaps) or the fact that you had your first date over Korean barbecue. Just remember that your guests' culinary tastes might not be as adventurous as your own. If your family and friends have conservative palates, you may want to limit the more exotic foods to hors d'oeuvres. (Also, if there will be lots of children at your wedding, you might devise a separate menu of kid-friendly foods, like pasta or individual pizzas.) Cookbooks, magazines, even restaurant menus can provide additional ideas. Your caterer will also offer suggestions, and he or she should help you choose flavors that go well together.
I always try to tell my guests that Belize has so many wonderful and exotic foods. If you are not up for something so exotic, trying mixing some of our island flair into traditional dishes. One of my favorite caterers makes Belize Wedding menus extra exciting by adding tropical glazes and remixes of popular local dishes.
Make It Personal
Many brides have already been to Belize, and have a favorite restaurant. Although this came make it personal, there are always questions you need to ask. If you choose your favorite restaurant to create the menu, keep in mind that you may not be able to pick from their normal fare. Many restaurants in Belize are not able to cater for larger events, simply because they don't have the space/manpower for larger crowds. Always ask what they feel comfortable catering, and be sure to ask if they have had events that size in the past!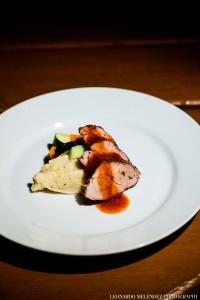 Other Considerations
Be sure to also consider the location and the time of the year. A site that's designed for big events, such as a hotel ballroom or a banquet hall, has the facilities and staff to serve any food in almost any style. A wedding held on a beach, on the other hand, has its limitations — but it's also an opportunity to do something unique. Most caterers can build a kitchen just about anywhere; they can rent burners, ovens, tables, even refrigerators, and hook them up to a generator if necessary. This is, indeed, an expensive proposition. But food that's prepared simply — cold soups, roasted chicken, couscous, and green salads — is easier to serve at a beach wedding and is naturally fitting for summer.
A couple marrying in the winter months in the jungle might opt for comforting dishes such as rack of lamb and warm soups. Many caterers these days are cooking with a greater focus on seasonal foods; a good cook knows what grows when and where, and should be able to direct you in creating a menu that highlights the best of the season.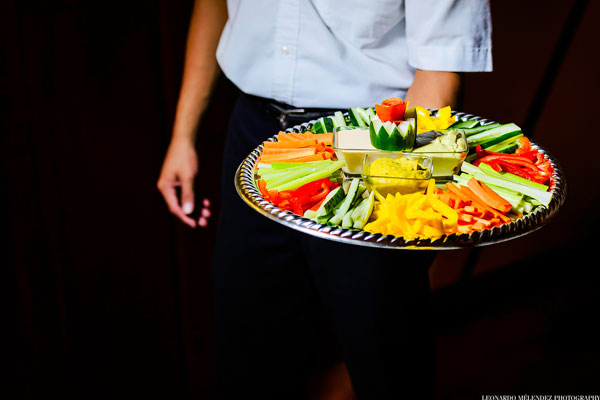 TYPES OF SERVICE
Plate Service
This is a common option for weddings, offering food in courses presented on individual plates. It's a great way to serve classic cuisine, as there's generally less variety than with other types of service. The cost, however, is usually higher than that of a buffet or family-style dinner. A caterer might require as many as 3-4 cooks and three times as many servers to prepare and serve one hundred plates of grilled fish. Also, there are rental costs to consider; each course comes on a different plate and uses a different utensil, which can add up.
Buffet
A buffet is a good choice for both finicky eaters and a crowd that loves to eat. It can include many different dishes and nearly any style of cuisine. Guests can serve themselves (choose foods that hold up well over a heat source or at room temperature), or you can have servers offer items that are carved, like roast turkey, or prepared to order, like omelets or a pasta.
Though it requires a smaller staff, the cost of a buffet can sometimes be as great as that for plate or family style since the caterer makes more food and may need more rental equipment, such as chafing dishes.
Stations
For the couple who can't decide on just one or two types of cuisine, stations are a good solution. A station is a buffet table featuring a particular type of food. A station reception should have four or five tables. Each may offer a different course or style of cooking: Japanese noodles, Italian antipasto, Middle Eastern mezes. On-the-spot cooking, like grilling, is always interesting; guests can even get in on the action, assembling tacos or mixing services. Coordinating stations can be complicated, and with so many options, food and rental costs can be high.
Family Style
Another option is to set the food out on each dinner table on big platters and let guests serve themselves, family style. "Pass the potatoes, please" is such a familiar and warm request that it's sure to make easy acquaintances of strangers.
While this is a more casual type of service, the food can be as decadent as you like. It need only hold up over time, which means dishes that taste good at room temperature. Caterer Peter Callahan likes comfort foods for family-style meals — braised ribs, creamy risottos, and luscious salads of baby greens, soft cheeses, and nuts. Less staff is needed, so family style is usually the most economical choice.
Saving Money
The cost of a wedding dinner has two main components — the price of the food, and the price of serving it, which includes rentals, staff, service charges, and gratuities. A caterer's bill generally lumps these two factors together in one per person price, but it can be helpful to think of them separately when planning your budget. If lobster is your heart's desire, but doesn't fit within your budget, ask your caterer to serve it in smaller portions as an hors d'oeuvre or appetizer.
Alternatively, if your menu includes expensive foods, choose a more economical style of service — a big, steaming platter of lobster offered family style is just as tantalizing as a lobster tail that arrives on each guest's plate, and the cost of serving it is much lower. Luxurious foods are not limited to filet mignon and truffles. Callahan suggests a first course of risotto with mushrooms, and a second of braised spareribs, which use less expensive ingredients but are just as exquisite. One of his clients served fried chicken at a very elegant sit-down dinner, simply because she liked it.
Wedding etiquette dictates only that you throw a gracious and thoughtful party, not that you offer caviar and French Champagne. The most important goal of any Belize wedding is that it express the couple's taste.