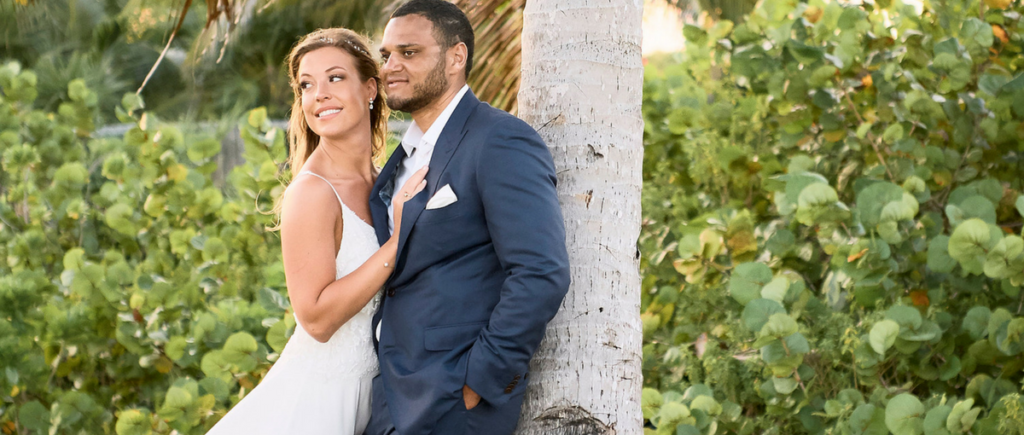 A Lush Waterfront Ceremony in San Pedro, Belize
One of the first aspects of a wedding we love to help couples sort through: The venue! Belize is home to numerous distinctive wedding venues which offer couples and guests a truly unique experience. But all venues are not created equal! Signature Belize Weddings has developed our relationships with venues year over year, so we can offer couples the assurance that the setting will be right. At the end of the day, we really need to be able to vouch for every venue, a crucial piece of the wedding planning process.
Our team loves the process of choosing a venue because it requires imagination: If the venue is a canvas, what will this particular couple's painting look like when their wedding night arrives? (Side note: If you're one of those rare gems with a creative streak and the ability to pay meticulous attention to detail, consider a career as a wedding planner!)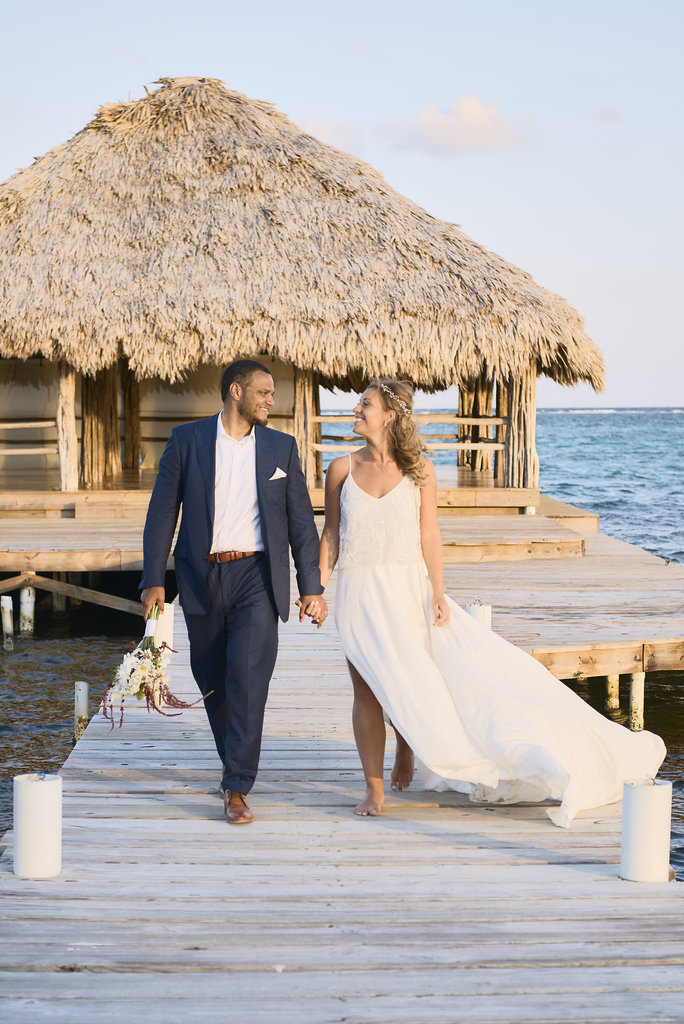 Chelsea and Stanley are a beautiful couple with an understated but fashionable aesthetic, and as soon as we met, our team was dreaming up a lush design scheme where the sand meets the abundant jungle of Belize. When we sense a couple's aesthetic is understated, it definitely doesn't mean there's a lack of style. An understated aesthetic means our team has to work to ensure that the couple's subtle style is reflected and not overshadowed by the setting. It's easy for the details to slip into the sunset in Belize, so we carefully design our weddings to complement and enhance the beauty of our surroundings.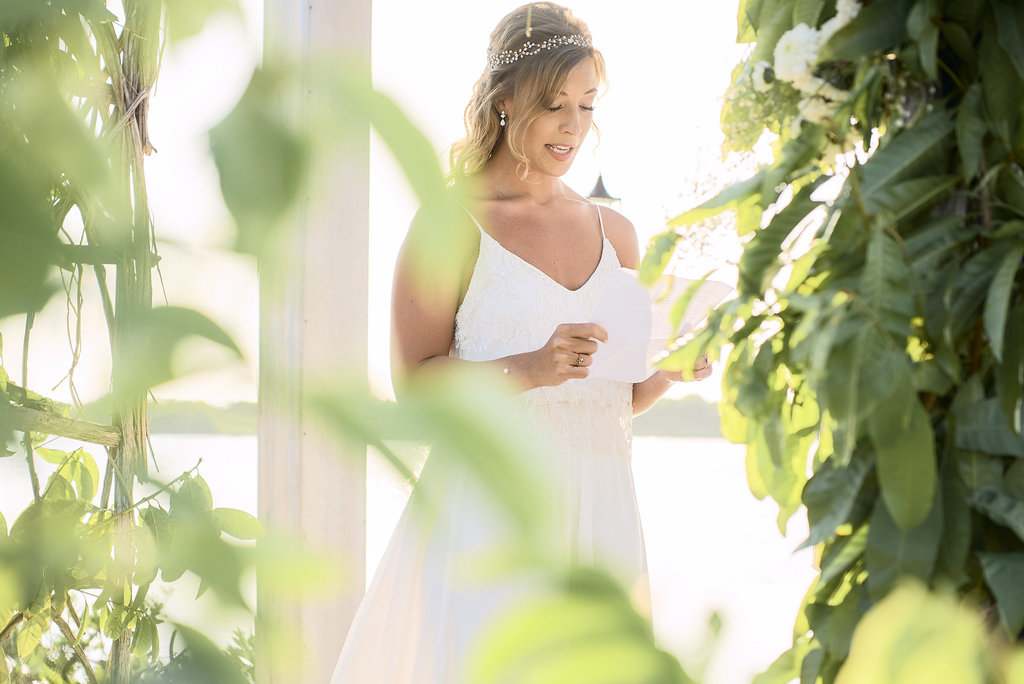 Chelsea is a classic, elegant beauty who chose a lovely, understated gown and a delicate, natural crown in lieu of a veil. This minimal, stylish aesthetic with attention to detail is even reflected in Chelsea's unique deep-blue and diamond ring. Setting up this wedding was all about attention to the dainty details and ensuring that our signs, centerpieces and flourishes melded Chelsea's style to this stunning venue for the evening.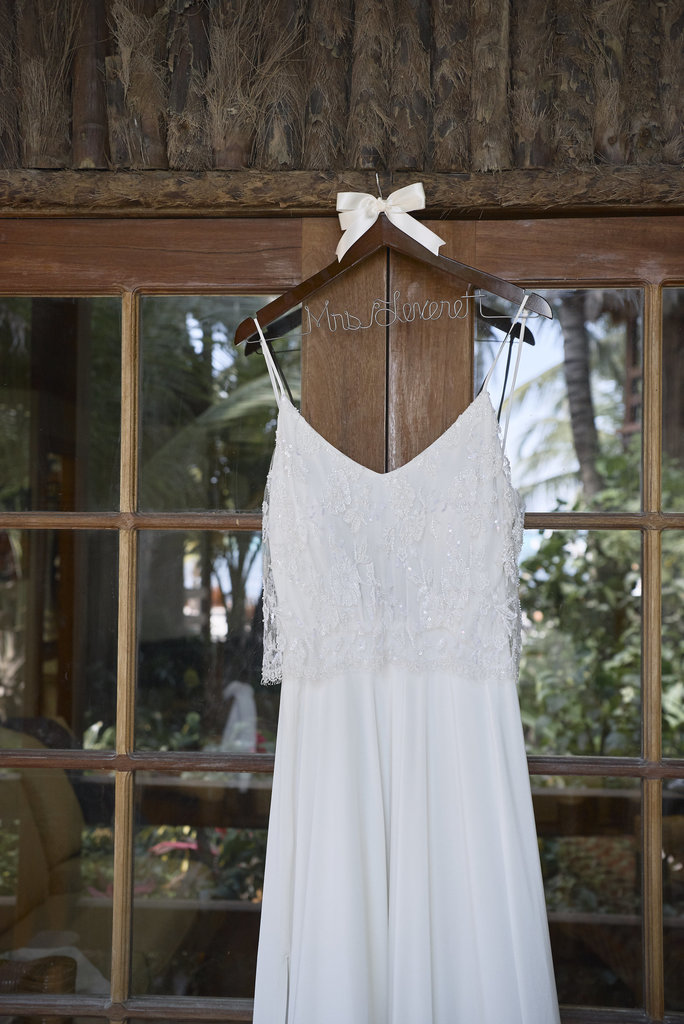 When their big night arrived, our team was so happy to watch the couple say their vows in an emotional ceremony. Sweet groom Stanley was in tears the moment he saw her walking down the dock toward the sea! The deep blue of the sea as the sun set made for a seriously memorable gallery of photographs of this couple, who looked equally comfortable and lovely on the beach and against the lush botanical backdrop. What we loved most about this couple is how comfortable and at ease they seemed together. Their wedding night was romantic, emotional and at times super lighthearted (see the bride roasting her own s'more by the fire.) This sense of lighthearted, romantic ease and elegance pervaded the whole night. Scroll through Chelsea and Stanley's gallery to see for yourself!
Cheers,
Signature Belize Weddings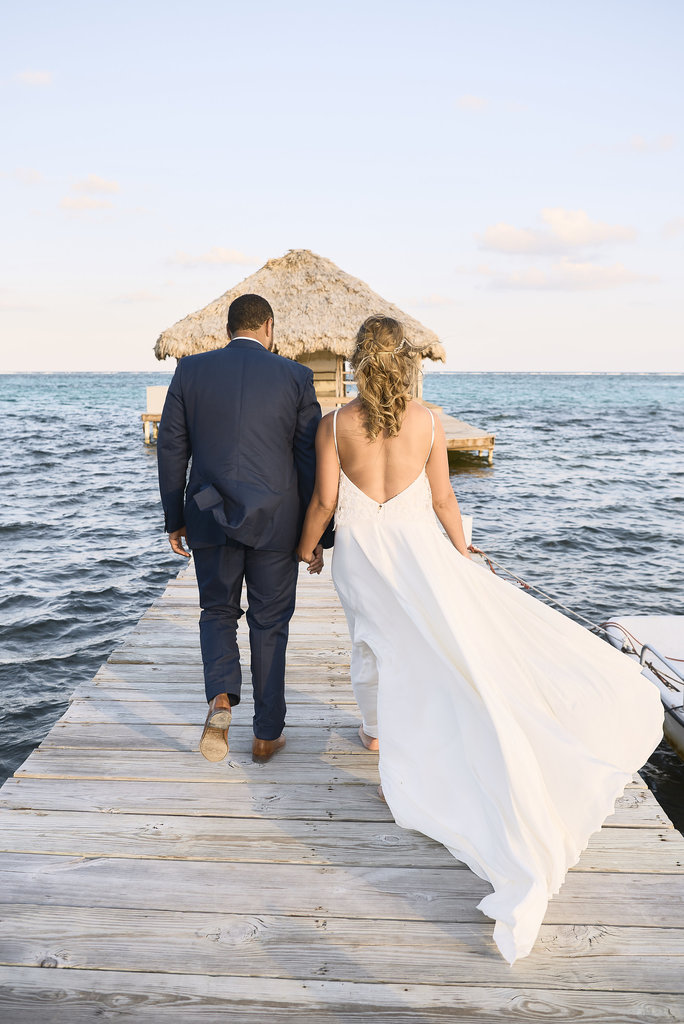 Ceremony Venue: Stella Smiles, San Pedro
Planner: Signature Belize Weddings
Signage: Signature Belize Weddings
Florist: Signature Flower Shoppe
Hair and Makeup: Couter Cher
Rentals: Special Event Rentals
Photographer: Efrain, Leonardo Melendez
Catering: Chef Sean Kuylen
Cake: Bake'D
DJ: DJ DZL